Steel Encased Calcium Sulphate Network Raised Access Floor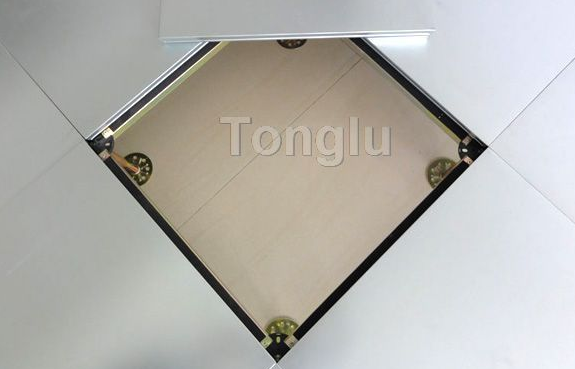 Calcium sulphate raised fioor panei in made of the environment friendly paints as the reinforcement material ,and then solidify the calcium sulphaate crystals, and after the pulse pressing process done,has become the newest one of raised access floor ,because thegood futhers in environment friendly, fireproof, high lonading capacity and flatness and so on.
Interduction of Products
Panel-Galvanized steel plate encased the calcium sulphate in six fances,steel sealed edge,with or without coner lock hole in four corners,wildly brand top tiles could be carpet,HPL PVC tiles or other tiles as you like.
Accessories die casting steel structure pedestal plastic gasket on top,height could be 70mm-150mm,with or without aquare tube stringer steady steady connect the system.
Application
Wide range of the application all kinds of top grade office.
Characteristics
1. Full galvanized steel encased the calcium the calcium sulphate,very good sealing ang water-proof.
2. High dimensional precision,strong loading ability ang shockproof.
3. Adjustable height for pedestal,assembly agility ,lairge wire,good exchangeability.
4. Elegant appearance for paving wildly brand top tiles.
5. High loading capacity excellent raised flooring in 21st.
6. High recycled,convenient removing,saving cost,long performance life.
Technical Specification
Type
Internoal
Size (mm)
Fire
Performance
Conzentrated
Impact load
N
Ultimate load
N
Uniform load
N
Rolling load
LB
N
Kg
10 Times
10000 Times
TL-3001
FS800
600*600*30
A
≥800
≥3550
≥363
≥536
≥11250
≥16100
3560
2670
TL-3002
FS1000
A
≥1000
≥4450
≥453
≥670
≥13350
≥23000
4450
3560
TL-3003
FS1250
A
≥1250
≥5560
≥567
≥780
≥16680
≥33000
5560
4450
TL-3004
FS1500
A
≥1500
≥6675
≥670
≥1005
≥19892
≥34500
6675
5340
返回列表